This simple free MAXScript tool will add some functionality to Grid objects added to the scene. The following functions are added to the grid Modify tab:
Auto Axis changes current grid display plane based on current camera view (Max 2018+ only).
Auto Freeze will freeze a grid as soon as you deselect it so that you won't accidentally select it wile moving other objects.
Keep on World Grid will force this grid to snap its pivot to the world grid when moved.
Activate will toggle this object as the current active grid.
Move to World Grid is a one-off button to move the grid to the world.
Pick New Pivot lets you pick a new pivot point in the scene for the grid.
This product is also included in Wall Worm Free, Wall Worm Pro and
Wall Worm Pro Pack
.
If you use Wall Worm, you should update WW itself and not use this standalone version.
Note that the Youtube Video linked in this page starts with a nudge toolset included in Wall Worm/Wall Worm Pro. To jump to the grid object additions, jump to 9m20s into the video.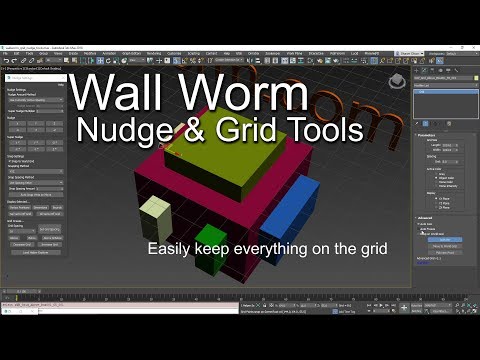 Advanced Grid Ops
Brand: Wall Worm
Product Code: wwGridOps
Availability: In Stock
Tags: grid