This product is also included in Wall Worm Pro Pack. If you use Wall Worm, you should update WW itself and not use this standalone version.
The Delete Faces Modifier is a C++ modifier similar to the DeleteMesh modifier in Max except it has several controls and options. Instead of always deleting the incoming mesh at the currently selected sub-object level, it gives you several options for what faces to delete:
By Selected Faces
By Selected Vertices
By Smoothing Groups
By MaterialIDs
By Face IDs
By Polygon IDs
This plugin is available for 3ds Max 2015+.
Note: For 3ds Max 2016, you may need to install Microsoft Visual C++ 2013 Redistributable (x64) from the Microsoft website if it is not already installed.

CHANGELOG
Version 2.12
Added option to Skip Selected Faces.
Fixed bug in Use Selected Vertices.
Version 2.11
Fixed faces being skipped when By Polygon is on and the faces in polygon were not planar.
Version 2.1
Added support for Max 2018.

Fixed some problems with Delete Faces.
Fixed isolated vertices not being deleted.
Added button in Custom Attribute to delete the rollout when it persists after the modifier list has been collapsed.
Version 2.0
Added Support for 3ds Max 2015.
Converted to C++ plugin with speed increases.
Added new option to choose by smoothing groups based on: Match ANY, Match All or Match None.
Added option to choose material ID or exlude by material ID.

Version 1.0
* Initial Release.
Known Issues
In 3ds Max 2017+ an object using this modifier is no longer selectable in the viewports. Workarounds include selecting via the Scene Explorer or to add a Vol. Select above the Delete Faces modifier. I am looking into fixing this issue.
Requirements
Minimum Version of 3ds Max
3ds Max 2015+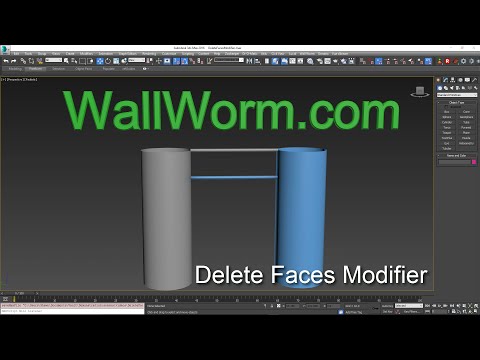 Delete Faces Modifier
Brand: Wall Worm
Product Code: wwDeleteFaces
Reward Points: 1
Availability: In Stock
$0.00

Price in reward points: 4