The Arch Primitive allows you to build arch geometry that is safe to export as world geometry in the Source Engine and other BSP games. It offers several controls over the dimensions, segments, materials and UVs.
This product is also included in Wall Worm Pro Pack. If you use Wall Worm, you should update WW itself and not use this standalone version.

Geometry
New Geometry Class
New Geometry class named Arch in the Create Tab under the Wall Worm category.
UV Controls
UV controls built into the geometry parameters. Control UVs in the modify tab.
Vertex Grid Snapping
Option to force all vertices to snap to the world grid.
Brush Geometry
Creates valid Brushes for Source.
Requirements
Minimum Version of 3ds Max
Probably any version of 3ds Max
Exporters
VMF Exporter Link
Has native options for exporting as a collection of grouped brushes, func_detail and/or as 3D skybox in the latest Wall Worm and Wall Worm Pro VMF exporter. Requires WW/WWPro 2.682+.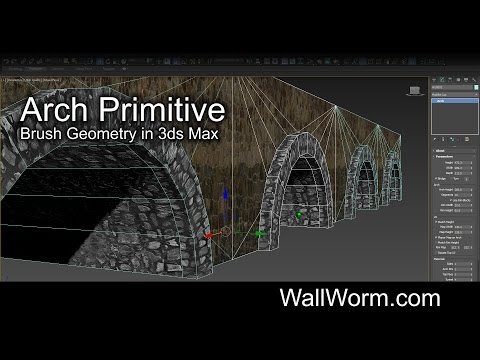 Arch Primitive
Brand: Wall Worm
Product Code: wwarch
Reward Points: 1
Availability: In Stock
$0.00

Price in reward points: 5
Tags: script, plugin, level design, bsp, geometry, brush, geometry primitive